Illustrator of the Month
ILLUSTRATOR OF THE MONTH / JANUARY 2013: TERHI EKEBOM
The year 2012 has passed and the next one is about to begin. What kind of year did you have?

I did several murals, for example onto Kiasma Museum of Contemporary Art and Kaisa House, and for the Helsinki Comics Festival, plus in France and Switzerland at the local comics festivals at my exhibition opening events. I also did some installations, published the "My New Boots" flip book, composed some newspaper poetry (one of which won a competition in the newspaper Helsingin Sanomat), and prepared for my next comic album. This was the "year one" of my life post cancer, but it seems that it was still quite a busy one.
 
How did you end up becoming an illustrator?

I started drawing as soon as I could hold a pencil. My parents have saved up stacks of my early drawings, which I have been doing pretty much every day of my life. Occasionally, I have left the drawing kit home when going on a vacation. What usually happens by the third day or so is that I try to borrow a pencil from the hotel lobby or to find out where the nearest arts shop is.

I was interested in becoming an illustrator right after high school, but I had my doubts about it paying my bills. I did my first illustrations at the end of the 1990's and that set it all in motion. What I have especially enjoyed at Napa Agency are the commissions that seem particularly suitable for me.
 
Please describe your style and your working process. How did you discover your style?

The basis of my work is a standard pencil. I almost always do the lines with that. I apply the color on Photoshop or by using manga pens. I like colors which are warm, yet fresh. I've noticed that the combination of turquoise and orange is an especially lovely one, and I would always love to do images which are warm from the setting sun, turning into yellow.

In my commissions I hope to get to use some of my favourite things: shades in a clear-cut role, the contrast of large and small, repetition and the richly-textured surface. Those are the things that make me tick.

You have an extensive background as a comic artist. How did you initially get into it and why are comics important to you as an art form?

Storytelling is rewarding and the world of comics is a suitable backdrop for that. There is still something magical about the narrative which is made out of sequential images. Working as a comic artist is independent and the technique is quite simple. All you really need to have is a pen, a piece of paper and a copy machine. So, although I have experimented with a lot of things, let's say mascara, the media I'm really into is the traditional print form.

What is happening at the comic front at the moment?

I'm working on my fifth comic book, which is hopefully done by the Helsinki Comics Festival 2013. The theme, death and ghosts, have appeared in two of my window installations at the Ruutu Galleria in Helsinki and at Öppet in Loviisa.
 
Which is the thing that has most affected your progress as an artist?

The passion to compose an image, the urge and curiosity with which I have approached new instruments.




What is the best thing about illustrating? What about the most challenging thing?

It's wonderful to be able to use my imagination and to find new ideas. The work, at its best, is visualising your own mental map of things .There are many kinds of challenging things, and it's interesting to start trekking entirely new paths and to find out how one's own ability twists into new forms. The not-so-interesting kinds of challenges are usually commissions that are too strictly limited in terms of boundaries.
 
You completed a huge mural for the Kaisa House at the Helsinki University Main Library with Jenni Rope. How was that as a project?

The project took several years and seemed incomprehensible in terms of the measurements. A 19-metre piece, just imagine it! How can you picture that in your mind if the very wall holding it has not been put up? Luckily we got to work together with Jenni and we had some experience of paintings done among the two of us. We devised a new technique to be used, and utilised prints done onto plates of different shapes. We could move them beforehand and also on site, so that's how we pieced it together, combining direct wallpainting with this method. This is also why the piece was more easily adaptable for the space available and we used the layers for charging it with added visual power. It was a challenging project, but also a very rewarding one.
 
Your murals have also been featured at several exhibitions, the latest of which is "Eyeballing!" at Kiasma in Helsinki. You have also been part of the Multicoloured Dreams project, in which your work was displayed on a fence at a construction site. Why do you like doing murals especially? And what is it like to do pieces for the public space?
 
A mural is a living thing, it's present in the people's everyday life, as part of the city. It can be a temporary thing but while it's there, it's certainly not hidden away. It's also born in a given place, as a comment to and as a part of a certain place, to naturally fit into that environment. I think it's very interesting how the mural takes shape. While painting, I feel like being very much present, honest and direct. I sense what is around me and combine that with my thoughts and perceptions. It's like I would be within a prism, where the rays of light meet, breathing the work into life. I would not like to downgrade the organic nature of the working process by drawing the piece elsewhere and then copying it on site. Rather, I like to let the place influence my work. Composing images is one of the ways I have to express my thoughts and to exist. There are also images I do just for myself but most of it is communication. That's why the public space is a wonderful place.




What other interests and hobbies do you have?

Swimming, walking, yoga, meditation, reading, composing newspaper poetry, collecting packages of stockings. My collection is available online at Facebook.

Please describe yourself as an illustrator by using three words.

Curious, excited, sensitive.
 
What kind of plans and hopes do you have for 2013?

I hope to be able to publish the comic book I'm working on. In addition, I wish I could concentrate on making an album of images and a flip book. I especially hope to be able to make  happen some of the spontaneous ideas I will get.

TERHI'S PORTFOLIO AND WEBSITE.

******************


ILLUSTRATOR OF THE MONTH / DECEMBER 2012: JUSSI KARJALAINEN
Please tell us a little bit about yourself. How did you end up becoming an illustrator?
I've been told that I have always drawn. The family of artists who moved next door when I was a child helped me to understand that not everybody needs to find themselves a "regular" job. I met several inspiring people who were interested in illustrating at the Lahti University of Applied Sciences, and doing things together with them set it all in motion.

Please describe your style as an illustrator and your working process. How did you discover your style and has it changed along the years?

I have a casual style, and I don't pay too much attention to what is or is not possible in the real world. A comic artist's style based on lines is something I can see in my own work. Lately, I have been consciously trying to break away from the line-driven style, and to think about surfaces and colours instead. Last spring I remembered something essential, which is not always too obvious: if the artist is having fun making the illustrations, there's a chance that the audience can grasp some of that as well.
You earn your living mostly as a graphic designer. What is your typical assignment like and what kind of work do you enjoy the most?

I mainly do book and record covers, AD work and posters. The best thing is to have a client who trusts me and my vision, and usually I can determine the angle from which I approach the task quite freely. For example to decide whether there should be photography or graphic design on the cover. In the end, it's always about the context at hand.

Indeed, you work a lot with books and that has been received well. One of your designs ranked high among the most beautiful books of 2011 and you're now a nominee for the "Best Debut Author's Book Cover" competition launched by Helsingin Sanomat newspaper. What kind of a process is it to design a book cover? What is a good book cover like?

The process always varies a lot. Sometimes there's a complete idea that just enters my mind before starting on the job, and sometimes the idea comes along during the process. A good way to operate is usually for me to read the book and to let things boil in my subconsciousness for a while. A feeling I get from that often directs the process into the right direction. Sometimes the cover design just appears in my mind. The actual operative part of the process is also very important, sometimes even more important than the idea itself. I think of myself as a craftsman, who has his own recognisable fingerprint.
A good book cover is one that evokes interest in the right way. That can happen both with a whisper or with a shout. A good cover exposes an inviting angle or a mood from which to approach the body of work without revealing too much. It's just a clue of what would follow.
Is there a piece of work which has particular significance to you?

It's difficult to name just one. Of course there have been assignments where the process takes so long that it becomes very special. Sometimes other people like a particular design I have not been so into myself when making it. And occasionally the enthusiasm wears out, and I lose interest in an initially great-looking piece of work a while after doing it. 

You were in the jury of the "Best of The Year 2011" competition organised by Grafia (Association for Professional Graphic Designers in Finland). What kind of an experience was that?

It was nice to exchange some thoughts with other professionals. There's not enough of that kind of discussion usually. I think the competition itself is a bit too heavily influenced by the world of advertising agencies. There could also be room for a competition which would take a slightly different point of view.

What do you think a good illustration is like?

Effortless and natural.
Do you have particular favourites among designers or artists?

I do have quite many of them but it's hard to name the most important ones. I would rather like to thank all the colleagues working close to me. I have the privilege to observe them and to learn from that.

What kind of interests and hobbies do you have?

I'm interested in music. I play the drums. We have a band about to form with Ilja Karsikas and Ahti Pursiainen.
Please describe yourself as an illustrator in three words:

Relaxed, playful, lumpy.

JUSSI'S PORTFOLIO

************************

ILLUSTRATOR OF THE MONTH / NOVEMBER 2012: ANNA VIRTANEN 
How did you end up becoming an illustrator?

I started doing illustrations as I was studying animation. In animation, you have to draw some 12 images for every second's worth of material, so there's a contrast to illustration, where you can concentrate on a single image and fill it with meaning and ambience.

Please describe your style as an illustrator and your working process. How have you discovered your personal style?

I draw a picture with a ball point pen or a thick wooden color pen, scan the image, and make a collage out of the different parts of it. Before selecting the colors I browse through the images I have archived in order to get inspiration for the mood of the picture. That being said, the colors remain as my favorites. One can only find a unique style through drawing and studying images they like.
You have graduated as animations director from the Turku University of Applied Sciences. What kinds of animation projects have you done and what kind of features do your favorite animations have in common?

After graduating I have mostly worked on commission, doing for example bits for documentaries and commercials. Doing animation is fun but also a laborious effort. You have to really have passion for the craft in order to make things happen.

I rarely watch animations these days. I like the kind which display their own carefully built, unique world.

You currently study at the Aalto University of Applied Sciences to become a Master of Arts at the program of Curating, Managing and Mediating Art. How have the studies been and what kind of future plans do you have regarding that?

It has been wonderful to be able to sink deep into theory on the side of all the practical work that I do. After graduating, I would like to find a profession which would provide me with a steady income in contrast to the ever-fluctuating financial world of being an artist. That being said, I have no intention of giving up illustrating.
What in your opinion is the best thing about illustrating? What about the most challenging thing?

The best thing is to be able to surprise yourself in a positive way. I like matching together colors and doing collages of different kinds. The most challenging thing is being able to constantly update your skills and working methods, so that you would not repeat yourself.

You said earlier that you like to visit museums. Could you give some examples of exhibitions which have especially stayed with you?

It's difficult because there are so many of them and mostly for very different reasons. I especially enjoy visiting old museums, where you can see and feel the dedication of the people running the place, and also how much those who have curated the exhibitions have loved their subjects, whatever they may be.
What other kinds of interests and hobbies do you have?

During my free time I like to do useless stuff, such as wondering about at flea markets and drinking coffee.

You also completed some illustrations for the Napa book "Yellow City" to the poem "Helsinki" by Satu Manninen. What is your relationship with Helsinki like and where did you find the inspiration for those illustrations?

I had just recently moved to Helsinki before doing those illustrations, and I really loved how the city felt. The drawing feature some places that were very special to me at that time.

*******************
ILLUSTRATOR OF THE MONTH / OCTOBER 2012: CHRISTER NUUTINEN


How did you end up becoming an illustrator?
Quite naturally, really. The time I used for drawing wasn't reduced as I grew older, quite the contrary. When I was about to quit school, I started to plan what would be the best way to turn  professional. At the time, the Lahti University of Applied Sciences already had some unofficial fame as "comics school". Famous young guys like Sami Toivonen and Klaus Haapaniemi were studying there, so going there felt like a good choice. I had already worked a little in illustration and comics before my studies, so this is how things started to roll.

Please describe your style as an illustrator and your working process. How did you come up with your style?

My style as an illustrator is a very intuitive one. Especially when I'm drawing just for fun, I might draw straight the complete image, without any sketching. At the other end of the spectrum, I may sometimes sketch quite thoroughly and to make several final drafts.

The style of my comics has often been described as being organic, poetic and imaginative. However at some point the style I had established for myself started to feel a bit like a burden, a sort of mannerism. That is why I have also tried out many other methods such as vector techniques.

I think the most important thing for me is that the illustrative process remains lively, that there's a feel of learning something new every day.

What is your typical working day like?

I aim to stay diligently at the office from 9 to 5. The morning is the most creative time for me, and it's a perfect time for coming up with ideas, planning and sketching. During the afternoons I tend to work on more routine and technical tasks, such as finalizing the images.

 


How would you like to develop as an illustrator?

In the end it's about a plethora of skills, so I'd like to become better in all of them.

You illustrated and animated a piece for the upcoming Helsinki Central Library (https://vimeo.com/36075452). Have you done a lot of animations previously and how do you see that in comparison to the standard illustrations?

I have mainly worked with info graphics, TV ID's and some video game graphics.

The thing about animation is the illusion of life, the way you can bring in movement and sound. It's magical to see the images moving for the first time. Animations are challenging just for the sheer amount of work needed, so I think the best way to do them would be as part of a good collective.

You have illustrated the "Kramppeja ja nyrjähdyksiä" ("Cramps and Sprains") comic by Pauli Kallio for several years, and you were also nominated for the Comic Finlandia prize in 2011 for the book "Parempaa Elämää" ("Better Living"). What it is like to illustrate such a popular comic and what do you think is the reason for it's popularity?

Our comics are a bit like art house films. The jokes are more subtle than side-splitting and there certainly is something Kaurismäki-esque about our characters. I think these factors resonate well with our readers. In my unbiased opinion the fans of our stories are mostly highly intellectual, not to mention elegant people.




You have also composed music for animations and TV, and you play in a metal band. Could you please tell about yourself as a composer? How are your musical projects doing at the moment?

Music is my main pastime when not working. My music-making grew out of crafting sound effects when I still was studying. The leap from funny noises to actual music is quite a short one in the end. Nowadays the ideas of musique concrete and other experimentalism have spread everywhere and  - on a practical level – a mobile phone for instance can also function as a very sophisticated musical tool.

On comparison it used to be different with the all the compulsory years of practising to master an instrument before you were sort of allowed to make your own music. I myself have only lately started to practice playing some stringed instruments, while I have made music for the commercial domain for already some time now.

I make music all the time. I play the bass in a band called EXO and release music under many different aliases. You can listen to some of my indie stuff at twistedkrister.bandcamp.com.

You also run a tumblr blog into which you post images from films (twisteri.tumblr.com). How did that idea initially come about and how do you choose which images to post?

This all started when I noticed that some of the moments in TV shows were very funny or strange if you took them away from their original context. I can't actually really validate a proper reason for the trouble of collecting them. There is just something intriguing, I guess. I take the screen captures as a reaction to something which catches my attention one way or the other.
 

What are you working on next?

I just dropped off a new book illustration for SKS (The Finnish Literature Society). It is for a book by Marjut Hjelt entitled "Meren valtiaat" ("Masters of the Sea"), which is about water-dwelling mythical creatures. It has been a big project being about 140 pages with lots of color illustrations. It has been great to work on a topic so interesting and timeless.

What kinds of tips would you give an illustrator just starting out?

I think one's own intuition is the best co-pilot. For me at least it has sometimes been hardest to know what I really really REALLY would like to do in the end and in this the unfiltered, unreasoned intuition is quite indispensable!

As far as illustrating goes, it might be better idea to specialize into something than to try and do every kinds of things or whatever happens to be fashionable. So in this my advice literally is "Do as I say, not as I do". 

CHRISTER'S PORTFOLIO AND WEBSITE


*******************
ILLUSTRATOR OF THE MONTH / SEPTEMBER 2012: KASPER STRÖMMAN




How did you end up becoming an illustrator?

I think I have just always drawn, the difference here being that I didn't stop doing it as most of the others do around the time they leave elementary school. Additionally, I have of course studied graphic design at the Camberwell College of Arts in London.

Please describe your style as an illustrator. How did you discover it?


Everybody has a style which is COMPLETELY unique, but I have drawn inspiration from some influential sources. These include 1970's political posters, 80's street art, the internet culture of the 1990's and various conceptual approaches in contemporary art.

What is the best thing about your profession? How about the most challenging aspect of it?

The best thing is obviously being able to draw all day long every day. That is so great. The most challenging thing is planning my schedule well enough to be able to do everything on time.



What kind of assignments do you enjoy the most?

I really like to have some room for manoeuvre in terms of deciding how to make the image. I think that is something which is evident in the end result, as well.

Could you point out one project that you're particularly proud of?

My latest work, that is how I think the story goes usually. At the moment I'm super excited because two books which I have taken part in will be published. One is called "Djursjukhuset", and it is written by my sister. It's about an animal's hospital. The test group, consisting of family members aged 1 to 4 years, though the original drafts were pretty good. That being said, their other option was to listen to me reading the day's newspaper. But seriously, I don't think any of the young readers will be too disappointed.

The other book is a project of my own, "The Kasper Stromman Design Encyclopaedia". I would file that one probably under the heading "comedy".

 


You currently work at the premises of the "Super8" collective in Helsinki's Kallio district, which also includes two other fellow Napa illustrators. What is it like to work there? 

We are like an old couple. Or rather, an old couple with ten people in it. If I remember correctly, my colleague Ilja just re-did the cover of my new design book just before it hitting the printing press a couple of weeks ago. That was a brilliant move.

You run your own design blog (http://kasperstromman.tumblr.com), which approaches design via everyday life and humor. Where did you get the idea to start doing that?

This is the World Design Capital year in Helsinki and I thought that the only decent thing to do would be to add my personal voice to the conversation. My focus is is mainly on the everyday use of design rather than its more official manifestations.

What kind of other hobbies or interests do you have besides blogging?

I love to stay indoors on a sunny day. A somewhat conflicting dream I have in that sense is visiting the Canary Islands.




Can you describe you dream project?

Well, I think illustrating a wall of a building would do.

What would be your dream job if you weren't an illustrator?

A hand model.


KASPER'S PORTFOLIO AND WEBSITE.


*******************
ILLUSTRATOR OF THE MONTH / JUNE & JULY 2012: ILJA KARSIKAS
How did you end up becoming an illustrator?

My first "proper" illustrations were done in 1998 as I was studying at the Lahti University of Applied Sciences. Before that, I had been releasing an independent comic magazine with another Napa illustrator, Jussi Karjalainen, and also drawn images for other small scale publications. I have worked as a professional illustrator and graphic designer since 2003.

Please describe you style as an illustrator. How did you discover it?

My present illustration style combines geometric and organic styles and I have discovered it little by little during the past four years. In 2008 I acquired a Wacom drawing tablet and started working with Adobe Illustrator, and that influenced my work a lot. Before that, I used to draw everything by hand, then combining the pieces digitally.

Nowadays nearly all of my images are done digitally, save for the scanned surfaces and splashes I sometimes use to add some organic texture. Despite the evolving technical solutions my pieces, they still very often include trees as topics. The colours are often quite bright and a certain element of a fairytale or a narrative of some kind is often in the mix as well.
What kind of commissions do you enjoy the most?

A good commission comes with an easily understandable briefing but also leaves enough space for the illustrator's own ideas and stylings. This is usually how the best works come about.

I like to do magazine illustrations, corporate projects, album covers and my own art projects. All of these have their own interesting features.

What is your favourite part in the illustrating process?

All parts are fascinating in their own sense, but what I enjoy the most is the part where the pieces start to click and the shapes and colours of the piece begin taking shape. Building small details and innovating a story within the image are also often very inspiring stages in the process.

What kind of environment do you work in?

I work at the "Super8" office in Helsinki's Kallio district. We have an excellent 2,5 story office space and an inspiring working community of 11 people: illustrators, graphic designers and photographers. In addition to working, we go out to lunch together, discuss visual culture and raising our children, use our spare time for table football and celebrate each others' birthdays.

You Illustrated author Antti Nylen's text "Kaivopuisto" for the book "Yellow City". There is also an exhibition piece which will be presented at the "Helsinki Fresh" exhibition in Berlin based on the texts and the illustrations. What kind of project is it?

I asked Antti Nylén to write a text for "Yellow City" after being overwhelmed by his first collection of essays. His essay in the book is not among his most polemic ones but I knew that illustrating it would be very interesting, and it was.

The exhibition will feature a 15 meters wide panoramic image of the Kaivopuisto park. In the image, Nylén's text will mix in with my illustrations which are inspired by the text and the picturesque milieu which is the park itself. The piece also includes a soundscape created by singer-songwriter Samae Koskinen.

In what kind of places would you like to see more illustrations at?

There would be a lot more room for illustrations on the streets, in architecture and in design objects. The minimalistic style of Finnish design could be a fitting platform for even ample illustrations.

You and singer-songwriter Samae Koskinen are the founding members of the children's music band, Sintti Silmusuu. In addition to the songs, the character Sintti Silmusuu is also featured in the book by the same name which is illustrated by you. How is the project doing at the moment?

We're just making a new Sintti Silmusuu album and a book. They should be out together sometime next year. There will also be more gigs as that happens.
 
  
What do you do in your free time?

Nearly all of my free time is currently devoted to my son, who is six months old. So basically, my free time consists of learning the toddler language, changing diapers and going out to walk with the stroller.

What kind of plans do you have for the summer?

In June I will travel to Berlin to build the "Helsinki Fresh" exhibition. The midsummer celebrations will take place at out summer cabin with the family and later on in the summer we will at least visit the town of Kajaani and the Flow Festival in Helsinki. In addition to vacationing, I will probably do some illustrations and sketch new children's books.

ILJA'S PORTFOLIO AND WEBSITE


*******************
ILLUSTRATOR OF THE MONTH / MAY 2012: ELINA MINN


How did you end up becoming an illustrator? 



I started illustrating as I was studying animation at the Turku University of Applied Sciences. Our teacher Priit Pärn gave us a caricature course early on, teaching us how to summarise an idea, a joke or a story into one single picture. That was also a wonderful way to train for doing illustrations.

You have graduated as Animation Director and in that capacity you so animations in addition to illustrating and graphic design. Could you tell us a bit about your career in animation, please?

At school we concentrated largely on storytelling and dramaturgy, plus on traditional animation techniques, such as stop motion and drawing. I don't feel like being a the traditional Disney-type virtuoso, so that led me into developing my own style of expression, which has more to do with the graphic qualities and rhythm of the piece. Doing animation is so demanding that one needs to learn to concentrate on the essentials and to leave out all the unnecessary debris. That is why a certain idea of reduction and summarising probably comes across in my work.

After finishing my studies, I have done animation per commission, for example for documentaries, and acted as an Art Director in short film animations. One of the most enjoyable of these projects was the film "Dragon Beach" by Aada Niilola. In it, I had the opportunity interpret documentary material by the means of animation. The film is about a Burmese psychic, who received the gift of foresight in his dream at a young age. My task was to illustrate that dream. I used pencil drawings displaying some sort of primitive things as the basis. That is, tents, caves and characters in ritual masks, among other things.


Please describe your style as an illustrator. How did you develop it?

I have done illustrators now for some six years now, during which time my style has become more and more direct and simple, plus my colour palette has expanded. I now work with and enjoy colours which are strong, and which display a sharp contrast. The images are mostly done digitally, whereas I used to do a lot more by hand, making collages and drawing with a pencil. I like to have variety in the textures I use. Material collected and scanned from old magazines is one of the key folders that I work with on my computer.


What kind of sources of inspiration do you have?


The internet is obviously a never ending source of inspirational images. The tumblr site of illustrator Julie Verhoeven is an example of such a place, with obscure illustrations from the 1970's and 80's: http://julieverhoeven.tumblr.com/

What is your working environment like?

I share a working space with a small gaming company, which is a truly inspiring state of being. It's fun to eavesdrop on their conversations while working. Their "gaming talk" is very interesting, even though I don't have a clue what a large portion of it means. It is a some sort of a contemporary language, in which Finnish, English, and the technological jargon are fused together. In fact, I once used their talks as the basis for the dialogue in one of my short stories.


During the past couple of years you have lived not only in Turku but also in Berlin. What is the life of an illustrator in these two cities like?

I think the major difference for myself is that in Berlin I worked from home, while in Turku I share a working space with several different people. As for illustrating per se, I really can't see a difference, and being an illustrator is wonderful just because you can work from anywhere. In Berlin, I met a talented pair of illustrators from Switzerland who work under the name of "It's Raining Elephants", but the German illustrating scene has remained quite distant at least from just browsing through the local magazines. I've got the feeling that illustrating as a trade is more advanced in Finland. Berlin as a city of artists is of course very stimulating and multi-faceted with more interesting gallery openings, museums and events than one can possibly even conceive of. In May, I will perform at the "Month of Performance" festival in Berlin, during which I look forward to getting loads of new inspiration, and wandering through the museums and book stores. And eating some quality falafel.

Which illustrators do you admire, and why?

One of my favourite illustrators at the moment is Olimpia Zagnoli from Italy. Her work nods at modernist classics such as Picasso and Matisse, and she has a knack at creating images which are both minimalist and powerful. One of my older favourites is Jockum Nordström, whose work enamored me as soon as I discovered them through the "Sailor och Pekka" childern's books. I had to be virtually dragged out from his retrospective exhibition in Stockholm's Moderna Museet. I could have studied the details of the drawings and collages for hours.


What other interests and hobbies do you have in addition to illustrating?

I write, read, and do yoga. 
        

Earlier this year, you had your debut solo exhibition at Turku's Kutomo. How was it?

It was a fun and a very intensive experience, during which I worked for a week doing an installation without much sleep at all. In the installation, I used different objects, fabrics and black sand, the latter of which somehow seemed to imitate the act of drawing in its usage, only in a three-dimensional state. The concept of performance was present, and the work achieved a stage set like form. I also did a performance in the space, based on a text I had written. I was so hyper during the performance that I forgot to hit "rec" on my recorder, so the documentation was left undone. That's what you get when you try control everything yourself, I suppose. I remember that the piece began with me dancing to Janet Jackson's "Pleasure Principle". 


What are you working on at the moment?

I'm planning and writing some texts, which seem to revolve around similar themes. I hope to publish them at some stage, and it would be interesting to combine them with illustrations. The first of the texts came about when I was asked to make a comic. I started making the script, which turned out to become a short story. Going through such metamorphosis is typical for my work, as I often begin with one idea which turns out to be something else. I have decided not to try and limit that in any way, as that kind of free form transference is something that keeps the work constantly interesting and challenging.


ELINA'S PORTFOLIO AND WEBSITE


*******************

ILLUSTRATOR OF THE MONTH / APRIL 2012: MARKO TURUNEN
How did you end up becoming an illustrator?
I have graduated as a Visual Artist (Sculptor) and I haven't actually studied illustrating. Sure, I have drawn ever since I was a little boy. In early 2000's I received my first illustrating assignment, as a friend of mine had talked about me to the person in charge of producing children's books for the Otava. Soon after, there was a message in my voicemail requesting me to come visit the said publishing house. I did a few sample pictures and landed my first illustrating gig. Around the same time, another friend of mine had recommended me for the students' paper Ylioppilaslehti and I started receiving work from them, as well.
Please describe your style. How did you discover it?
One's style of drawing evolves and changes all the time and it can be hard to decipher which feature in my work is essentially my signature touch. Perhaps some stylistic innovations typical for me took shape as I was doing illustrations for the "Johnny Kniga Tells" magazine. There I had artistic freedom and I was even asked to bring in illustrations for future use, without the accompanying texts. I noticed that my work was better when I just drew exactly what was on my mind without paying any attention to the possible context. Since then, I have tried to approach all of my work with that kind of a state of mind, to make an illustration which is akin to one I would have done without the assignment and the salary agreed for it.

I think finding one's style comes through working hard.
What do you think is the best thing about illustrating? What about the most challenging?
I think the most challenging thing is keeping the client happy. The best thing is making illustrations I wouldn't have made otherwise. It broadens my own horizon. The money feels good, as well. Without that, I couldn't keep up doing what I do.
What kind of projects would you like to have more of?
I have just accepted my work as it is instead of trying to think of something else I'd like to do. Sometimes the assignments can be surprising. A job which sounds boring initially can turn out to be very fascinating and vice versa.
You also have a long career as a comic artist. Could you tell us something about that: What makes doing comics so interesting and how do you communicate your ideas in that domain?
I did my first comics in 1984. They included super heroes. In the late 1990's, upon my graduation, I started publishing my work independently as I had no resources to do my art projects otherwise. My first "real" book came about at the turn of the millennium, and my work was first published internationally a couple of years after that. Next, I won a couple of awards both home and abroad, plus the "Puupäähattu" prize. I think I have released about seven books to date and several smaller releases in addition. I've been quite happy with how they have been received. Of course they could always sell a bit more.

It's hard for me to say whether or not there are any special features in comics that especially fascinate me. Of course I love the art of drawing, and the excess of time spent in front of the TV naturally means that I enjoy many kinds of visual narratives. But still it could be that I have drifted into the world of comics just because of the right circumstances. Making a comic doesn't require enormous financial investments and it's relatively easy to get your work out there. Another good thing about comics is that everything still seems to be possible within that world. The contemporary comics are fresh and new. It's possible to surprise others and be surprised.
You run an independent publishing house and a web shop for comics called Daada. What is it like?

It's fun. You get to meet some old friends and to make new ones as well. There is no financial benefit, I'm breaking even. Or maybe just barely not breaking even. I would say Daada is more of a hobby than a profession.
What kind of interests and hobbies do you have?

That's a tough one. I just realized that I have no other hobbies besides running Daada. I used to play football during the summer and floorball in the winter at a non-professional level. I don't even watch as much TV as I used to anymore. That, though, might change when I get a new bunch of channels in order to watch the World Championships of ice hockey later on. I would like to enjoy more culture, as well. Films, TV, exhibitions, and reading more would be very interesting but my time is now quite efficiently consumed by my own projects and my work as a teacher and an illustrator. I'm also the part-time leader of the Department of Comics and Animation at the Lahti Folk High School. That is, there's work aplenty and no difficulty of filling my free time.
You spent two months in Benin in West Africa late last year staying at an artists' residency. How was it?

One could write a book about it. To just say a few words about the experience here wouldn't do it justice. Let's just say I learned a lot from it. I think all Finns should be sent there once during their lifetime. At a young age, if possible.
Your work has been presented at various exhibitions both in Finland and abroad. At this very moment your work is part of the "Eyeballing! The new forms of comics" exhibition at Kiasma Museum of Contemporary Art in Helsinki. Has any partical exhibition especially stuck in your mind?

Kiasma was and is very nice even though there are more important things in life besides exhibitions at museums. The journey to produce an exhibition in St. Petersburgh is probably the most memorable since I got food poisoning on the train. The passport check-up was done with myself lying on the bathroom floor. But still, Kiasma is probably a highlight, even though it's not about the location. You can host a high quality exhibition at a lo-fi place and sometimes the most interesting new art is not to be found in museums. I can't name any specific exhibitions as they all feel special in some way. I've had the good fortune to be a part of several great exhibition projects and to meet many nice people through that.


In what kind of places would like to see more illustrations at?

It would be great if Finnish shops would also do for example their shop front windows and advertising entirely by hand as is done in many less-developed countries. All in all, I would like to see more craftsmanship.
This has nothing to do with illustrating as such but I would be interested in seeing how urban art would move from bigger cities into small towns and villages and into the traditional Finnish landscape.
What are you working on now?
I have a deadline for an illustration for "Ylioppilaslehti" this Friday. I'm also working on a "Kinder" egg related project, where I study how many units of Kinder one has to buy in order to get all the nine different "Barbapapa" figures. I'm currently missing one of them after having purchased nearly 200 eggs. I'm planning an exhibition based around this together with Tea Tauriainen, who has done the same thing. She got all of the different figures after buying just 127 eggs.

Additionally, I'm working on a new book. It's called "Marko Turusen Elämä" ("The Life of Marko Turunen"). I have sought for guys called Marko Turunen all over the internet. At this moment, there are more than 200 of us. Many of my namesakes have dream jobs, such as the Safari Manager Marko Turunen. I will compose a story where I'm going to treat all of us as one single person. I travelled to Africa to meet the Safari Manager. I wanted to see how his life is there in order to include it into the story.
*******************


ILLUSTRATOR OF THE MONTH / MARCH 2012: JENNI ROPE
How did you end up becoming an illustrator? 
I got into drawing comics in the early 1990's and from there on, it was easy to drift into the world of illustration. I made my first illustrations as I was studying graphic design at the University of Arts and Design Helsinki during the late 90's. 
Please describe your style. How did you find it? 
At first my style was a form of relaxed line made with calligraphy pen. For years, I used to do pencil drawings coloured digitally for the magazines Voima and Olivia. Then I found the scissors! I think that nowadays, cutting up paintings on paper and combining that with felt drawings is the style that I feel the most natural to myself.
You have recently relocated into a new studio at Helsinki's Kaapelitehdas. How is the place and what are you currently working on?
I just moved into Kaapelitehdas for half a year because it's closer to where I live. During that period, my sister uses my old studio. It's wonderful to start anew at a different place with a clean desk, not having to drag all the miscellaneous debris floating around at the previous studio with you. My new is also wonderful for light because it has three windows facing South.
At my studio, I'm currently making paintings for summer exhibitions in Mänttä and Pyhäniemi. Additionally, there are two ongoing book projects done for Napa Books: a collection of work by Maija Luutonen to be released in the spring and another book documenting the working spaces of young Helsinki-based visual artists to be released in the fall of 2012.
You have done many murals for several different locations. The latest one was done in Helsinki's Kalasatama in co-operation with Nene Tsuboi. Now you are doing a new one for the Helsinki University library, to be opened up in the fall. What especially fascinates you in doing murals?
I'm interested in doing large scale works, and to be able to see bigger ensembles come together in terms of space, colours and light. It was fabulous to work with Nene. We didn't plan anything. Instead, we just went at it and had a conversation with our drawings, taking turns. That was great fun! 
The piece at the University Library in Kaisaniemi is my first collaborative effort in doing something of that ilk for permanent purposes. It is a long project, which I'm doing together with Terhi Ekebom. We're trying out a new printing technique and trying to figure out what to do with the 19 metres of wall. We are certainly learning a lot while doing that.
You started working with Marimekko last year and the print fabrics designed by you have been turned into colourful outfits designed by Noora Niinikoski in the fall 2011 repertoire. The co-operation goes on for the next season's edition as well. How has the process been and what can we expect in the fall? 
Working with Marimekko felt really natural from the get-go. Of course I have a lot to learn about designing for fabric, as that was new to me. Luckily, I'm very interested in the process of printing and color calibration, so I've been an eager and a happy student. This coming fall's selection will feature two of my design fabrics and two new clothing prints.
You are a multifaceted visual artist who does collage paintings, sculptures, illustrations and animations. Your work has appeared for example in art books, and as jewelry and fabrics. Your input has also been presented in various galleries and exhibitions around the world and you have also founded a publishing house and a gallery. What more would you like to achieve?
I usually just drift along with the projects. If I would plan a direction I was to head into, life could become very boring. At the moment I'm mostly interested in working with fabric and composing art for walls.
Which artists do you admire? 
Misaki Kawai, Alison Schulnik, Jockum Nordström
What kind of tips would you give to an illustrator just starting out? 
Find your own style, don't just copy your influences. Only do things which are of interest to you and do them as well as you can. Be persistent, and you'll get noticed for sure.


***************
ILLUSTRATOR OF THE MONTH / FEBRUARY 2012: JUKKA PYLVÄS
How did you end up becoming an illustrator? 
I've always been making and reading various kinds of comic books. I like looking at the drawings I have made during my elementary school years. They are stored at the sauna cottage of my childhood home in Orimattila. There are boxes and boxes of drawings and collages and my two brothers' archives are in the mix as well. Not all of the work is signed, so it's hard sometimes to tell who made which one. I think the untainted innovation visible in those early drawings is the basis of my profession today.
I started my studies in art graphics and got to do a lot of classical live model drawing, at least during the first couple of years. At that time I didn't quite realise that there's such a  profession as "illustrator". After I graduated in 2000, I worked at the news desk of the newspaper Turun Sanomat. At the same time, I used to send my work samples around on CD's, as was the style of the day. Soon I received my first illustration order from the "Nyt" supplement of the Helsingin Sanomat, with whom I still have an ongoing collaboration. After that, some other publications started requesting for my illustrations, at least Image and the Like News, as far as I remember.
Please describe your style. How did you find it? 
I have expanded the scope of my work in order to be able to work in many situations, using several kinds of different illustrative styles, just to keep safe, in a way. Often I have to check with the client about the style they wish me to use. As far as I know, my gallery of drawn characters is very recognisable. My illustrations often include mishaps of some kind or humour in the vein of Monsieur Hulot, sort of slapstick. There are also dramatic continuums within a single illustration. I like the idea of being able to give the discerning viewer something extra. The details need not be too obvious, but instead something that creates a full texture, both visually and content-wise. I pretty much always use clear, bright primary colours. The lines in my drawings are also clear and black on outlines, such as in Tintin.
Actually, you have only recently developed a new style of illustrating. Would you tell us something about that, how did it initially start taking shape?
It is a sort of a low tech trick illustration. I like illustrations with perspective, three dimensional features and shades, just like in real life. I still don't want to use 3D programming because of the artificial feeling they create. I prefer a handcrafted way of doing things, which often translates into quality, as well. Often I'm also required to to do  illustrations which are informative and journalistic in their content, which is why I have used the technique in info graphics. 
I take photographs of small settings which I have composed. The backdrop, the blueprint and the objects are graphically clear. The objects have been made by wrapping suitable wooden objects into mapped graphics. That way, I'm able to take pictures from the air without a helicopter. I can shoot an ocean liner in my living room in the setting and lighting I wish, should the need arise. The crux here is similar to vintage film techniques for trick photos. The pictures appearing like they were taken from air have this certain kind of a Hollywood-esque feeling to them. The process has many phases and it requires a lot of delicate craftsmanship. It's a nice change for drawing, which is just essentially sitting at one spot. The end result is an illusion of reality, in which objects have been simplified in a funny way.
What is your favourite stage in the illustrative process?
The technical execution of the idea. When you're just drafting the general idea, you don't know yet if it's going to work in practice. When you have done the illustration up to a point and seen its potential, the rest is a piece of cake, really.
What kind of assignments do you enjoy the most?
Ones with clear lines, topics and schedules. The artist's freedom and fulfilling your vision sounds pretty scary, actually…
What is your typical day like?
I suppose there are at least two different kinds. One is a busy day when firing on all cylinders from the beginning to the end is required. Another one is the kind where all work has been finished, and you can just wonder about in contrast to the sitting down and grinding it. The latter can include for example a skiing trip to the sea shore or an excursion into an old deserted house. A day off usually ends at the swimming hall, taking a sauna and going for a swim.
What other interests and hobbies do you have?
The triathlon of an office worker. Fitness boxing, bicycling and swimming plus everything related to them. In addition, I dabble with wood materials and renovate an old cottage in the countryside. In principle, I try to avoid all visual things and things related to computers during my time off. Films and comic books are alright.
What would you do if you had to change your profession?
I once started studying to be a carpenter. Nowadays I find the craft to be more interesting than when I was approaching my twenties.
Your spouse, illustrator Jenni Tuominen, was featured as the Illustrator of the Month in September. She told us that you are a fine in-house critic, who is also very supportive. How does Jenni help you with your work?
Quite a lot. I often ask for help with ideas, and we brainstorm. Often some of those crazy ideas actually come to happen. It's good to have someone you can ask for an opinion and an advise on how to develop things further. Sometimes if I'm very busy, I may even ask Jenni to help me with my work getting finished in some way. I think we both get to be the assistant from time to time.
What would you still like to achieve in life? 
I think it's better just to see what happens…
What kind of project are you dreaming of?
A regular two-page spread in an internationally renowned weekly publication.

JUKKA'S PORTFOLIO



****************
ILLUSTRATOR OF THE MONTH / JANUARY 2012: HELMI SIROLA
How did you become an illustrator? 
I have drawn since I was a child but only after I gave birth to my second child at the age of 34, I experienced a rather mystical outburst of energy, which led me to take up sports obsessively and to begin illustrating. I grabbed my pencil and a pad and started drawing while the baby was asleep. The pencil was an easy and quick tool for brief illustrating moments, and that's how I discovered that it was my favourite way for visually expressing myself. Prior to that, I had made an effort to illustrate with for example felt, watercolours and pastel colours but they didn't feel nearly as comfortable as the pencil did later on. I have no idea why I didn't discover that sooner. I have always known that I could draw but for some reason I wasn't ready to take it on earlier. I guess I was too shy to do anything so personal, so I had been concentrating on being an AD, which I thought I would do for the rest of my career. Sometimes a year could pass by without so much as a single drawing. Luckily being able to draw is a skill that always comes back to you, and also it's never to late to start again. I hope everyone else would also keep that in mind as an inspiration.
I don't think I should've done anything differently, and I believe things went exactly as they should have. Being an AD thought me a lot about how the commercial world thinks and works, what management in the creative industries should be like, and how things work financially. I think that is knowledge I can utilise while being an illustrator, as well.
As an artist you use the name Helmi Sirola. Where does that come from?
Because I'm somewhat shy, it has been much easier to work using a pseudonym. The name has been generated by the formula of combing my mother-in-law's maiden name with a translation of the first name suggested by the "stripper stage name generator", which was Pearl. I think the name captures my style quite well.
Please describe your style as a illustrator. How did you find it? 
I approach the form via a series of lines and that's why I like to use something soft to begin with. The pencil allows you to make mistakes instead of forcing you to get things right from the get-go, which is delightfully merciful and pressure free. I scan the image and edit it quite a bit at Photoshop, so the whole process of drawing on the paper is quite a quick one since I'm only focusing on the form. The light and the shades come about on the computer. The following formula fits the description quite well: classic beauty with a modern twist.
What other interests or hobbies do you have besides illustrating?
My hobbies and interests are quite the opposite of what you could infer by looking at my illustrations. As a counterbalance to my soft and feminine style and the amount of time spent sitting at the office I want to work my body as hard as possible, and since I'm a person drawn to the extremes, I have to find a balance to being "a wuss". My current favourite is kickboxing and I could do the kicks and the punches ad infinitum. Additionally, I do Mooye Taekwondo and yoga, and work as an aerobics instructor.
What do you think is the best thing in illustrating? How about the most challenging aspect of it?
I like the sense of excitement, which always comes over me as I'm drawing. I can get inspired by any subject, and I hope that is a thing which will last over the years. The most challenging thing in illustrating is when there is nothing on the paper and I'm trying to think what to do about it. That's an important phase and I use quite a bit of time on it, so I don't have to change my plans when I'm deep into the work later on.
What inspires you?
I have previously been used to just believing in grinding it the hard way by putting a lot of work into a project without counting too much on inspiration. This is something I will change and start searching for the inspiration harder. I think that with my rate of getting excited about things, I can find inspiration just about anywhere.
How would you like to improve yourself as an illustrator?
I would like to become a virtuoso in a couple of different styles. There's a lot of road to travel and all development takes me onwards. Hard work is what pays off in the end.
Where would you like to see more illustrations at?
Often when looking at the illustrations on the packages of everyday things I tend to wish that professional illustrators would be employed more frequently. For example the clothing industry's print production is enormous, so it would be great to see some alternatives to the "Hello Kitty" prints in children's clothing, for example. Of course the demand determines what's being used, as well.
What kind of future plans and dreams do you have?
I plan to work on my style and work hard. I'm not really wishing any major changes in my personal life, I like how things are. Of course one should also have some irrational dreams. My daydreaming favourite is this: I make an illustration for the US Vogue editorial produced by Grace Goddington and photographed by Tim Walker. I'm also dreaming of starting kung fu. 

HELMI'S PORTFOLIO
 ****************
ILLUSTRATOR OF THE MONTH / DECEMBER 2011: KATI RAPIA
You're just back from Italy. How was it?
My goal was to see the sun, read, eat and snatch some of my aunt's delicious recipes.
The laying about worked out perfectly and I also did some work but in that imaginary forest it hardly seemed like work at all.
How did you end up becoming an illustrator? 
I had made comics for Napa Books since the beginning and when the Napa Illustrations was founded I was also curious about illustrating. Before that I had done them sporadically.
Please describe your style as an illustrator. How did you find it? 
My illustrations are maybe of the kind where clumsiness and drawing by hand meet visual efficiency and in best case scenario humour and delicacy. I like to do the colourful parts of the illustrations as collages and take from there by line drawing. My style started evolving when
I found the second drafts of the large photo prints I had done. There was no use for them and I started cutting the wonderfully-toned paper into collages instead of throwing them away.




You are a photographer, an illustrator and a visual artist by trade. In addition, you do comics and animations. How do you combine the various facets of your talent in your work? Is any one of these a particular strength for you in comparison to the others? 
Hmm… I take photographs of illustrations and sketch images as a series reminding me of comics. I'm a bit hard to pin down on these categorisations, I suppose, but I recognise myself as a visual artist.
What has had the biggest effect on your evolution as an artist? 
Doing things, friends, literature, films, art, time.
What is your favourite phase in the illustrating process?
That's hard to say. The beginning and the end. When I get an idea for my new work and when it's almost finished, and I'll make one last improvement.
What do you consider the characteristics of a good illustration?
A good illustration dramatizes its subject and does good visually. I know that whenever one of my illustrations ends up on the wall next to my desk, it's a job well done.
In addition to comic books you have made a few craft books with Mari Savio. The latest one of these was called "SURRUR – Make Your Own Marimekko", which has received widespread acclaim from both Marimekko and the audience. What kind of project has it been?
Making of these craft books has been a great hobby indeed! The co-operation with Mari, the Marimekko designers and the AD's has been most welcome after the lonely moments spent at my desk. Making books takes more and more time each time as the ideas stem from tiny details in phone conversations or hanging about at cafes. What I especially like about "SURRUR" is that everybody involved have really given it their best.
You live in Köpbacka, Loviisa, in a former school with your family. What kind of milieu is it to live in?
The morning begins by making a fire in the fireplace and warming up the place, getting the kids out, sipping cold coffee during the morning and thinking about getting to work and actually getting to work. I'm used to working at my home office, and doing any housework during the working hours is strictly forbidden. It was because of more working space that we initially moved from Helsinki to Loviisa. It's usually peaceful to work at Käpbacka. I tried some offices but eventually returned home. Loviisa is quite a nice town nowadays, you can make anything happen here.
The art of comics in Finland is now 100 years of age. Your work was also presented at the big contemporary comic exhibition in Salo. How would you describe your present relationship with comics?
I'm just thinking about making one! Comics have their place in the world and at least I'm trying to wave the comic flag.
What kind of future plans and dreams do you have?
An exhibition, a book, a trip, some time for working… I have also visited some chicken blogs and I would like to acquire some chickens next spring.
What are you working on next?
I'm working on a collage exhibition, an album and a cookbook.
****************
ILLUSTRATOR OF THE MONTH / NOVEMBER 2011: OSSI PIRKONEN
How did you end up becoming an illustrator? 
My career as a full time illustrator began in 2009, as I left my day job as an advertising company graphic designer and started doing things freelance through my own company. I have drawn since I was a child, with my father and my friends. Flags waving, monster pick-up trucks, castles, airplanes, ninjas. During high school drawing started to draw my attention more and more. I drifted into advertising through community college and the polytechnic. The five years spent in advertising were filled with important learning experiences, and I did some illustrations during my free time.
Expect for a couple of courses, I'm a self-taught illustrator. I studied multimedia production at the Lahti University of Applied Sciences, and that gave me a good base for a variety of different fields.
Please describe your style as an illustrator, how did you find it? 
It would have been easier for me to describe my style a few years ago. I used to do colorful vector illustrations almost exclusively. Nowadays I also do black and white digital painting and freer, more drawing-like illustrations. I still used bright colors but with more consideration.
In terms of topics, my illustrations are often characters or situations based on the characters. Naturally there are also exceptions to this. My influences stem from, for example, children's books, pop culture, American animation, the world of cute Japanese characters and the domain of Eastern European animation and illustration.
You worked in advertising before becoming an illustrator. What kind of a change has that been?
For me it has been an important change. The world of advertising is interesting and the experience has been useful in many situations. I think I'm more of a freelancer by nature, though.
The pace of freelancer life is both same and different as in an advertising company. As freelancer, you work whenever there's a need to, but if the work is more rewarding than as an employer in a company, so be it. In advertising agency the pace is quite hectic at times and relaxed on occasion. That, of course, also applies to being a freelancer. A single project can naturally be much more of a long-term thing for a freelancer, so it's easier to concentrate on projects and do a better job. The freedom of being a freelancer enables choosing your own schedule and the projects you do.
What kind of illustrative work do you enjoy the most?
I enjoy quite fast-paced, unique, relatively free projects, where the client trusts the illustrator and the co-operation flows easy. It's important for me to work with customers who know what they. A well-functioning dialogue is essential.
What is your dream project?
It's hard to say. Many dream projects have come true and many are still to come. Perhaps one would be a major children's book project, with a limitless budget. Or maybe a big international client or project. Fabric design would also be interesting.
You've done illustrations for the "Ipanapa" children's music albums since 2007. The latest one came out just recently. What kind of a project has that been?
The new one is a double album, "Napakympit!" ("Bullseye!"), which includes all of the "Ipanapa" hits. That's the seventh cover I've illustrated, designed and done for the series. In addition, I've been part of the designing team for "Ipanapa" clothing, and the covers of their sheet music book, coloring book and activity book, plus other smaller designing chores for the series.
Alex Nieminen asked me to design the first "Ipanapa" cover as I was working in his advertising company, and I've been on board ever since. It has been a great project. I've had the opportunity to do illustrations in a style comfortable to me, rich in color and detail. The best thing has been discovering that the albums are part of many a household. We received a platinum record accolade for the first one and gold for the second one.
Music is one of your great interests and you have even named your company akin to your two favourite songs by The Beatles. What is the best music for you to work by?  
When doing illustrations, I often listen to just plain rock music, several kinds of it and from different eras, though. I also like electronic music. Most of my new music I find through Spotify, and sometimes silence is the best for my concentration. Sometimes I listen to ambient, which some may find sleep-inducing. I find it focus-enhancing.
If I had to pick just one album to work by, it would probably be the soundtrack to the film "Blade Runner", composed by Vangelis, and preferably the longer "Esper Edition". My free time is so full of music, that silence is sometimes a refreshing backdrop for working.
What kind of sources of inspiration do you have?
The nature, flea markets, travelling, pop culture at large, music, films, art history, old children's books, the Internet.
What kind of tips would you give to a young illustrator starting out?
Study different styles, work hard. Try to get jobs you like, from entities you respect. Put just your best work in your portfolio, not all of it. Three good ones showcasing your style and skills is way better than all of your twenty study exercises which don't. If I should summarize all that up in two words, those would be: "work hard".
What are your working on next?
I'm doing a children's book for Teos. It should come out next year.


**************
ILLUSTRATOR OF THE MONTH / OCTOBER 2011: JANNE HARJU


How did you become an illustrator? 
 I started to draw as a child but then again, who wouldn't have done so? School seemed easy and there was lots of time to draw. I did some things resembling comics and illustrations for local magazines during my school years.
My first illustration job proper was at the Lahti University of Applied Sciences, when I completed a set of ten illustrations, which I then sent to magazines I thought were the most interesting and suitable. My accompanying letter was written with the gusto of a confident young man, and in it, I told the magazines that I have chosen them to publish my work. As it happened, the weekly Nyt supplement of Helsingin Sanomat ordered some illustrations right away and that collaboration lasted for years. The daily Ilta-Sanomat paper also noticed my work at Nyt and they become another one of my regular clients. At that time, I also started working with the publishing house Tammi and other publishers.
I didn't exactly decide to become an illustrator, it was just something I was interested in, and I made the successful effort to try and land jobs in the field. I haven't had any regrets about it.
Please describe your style as an illustrator. How did you discover it? 
 I draw the images with Illustrator and apply Photoshop for colors, shades and layers. My illustrations usually include humor based on an unorthodox approach to the subject at hand.
My style and technique were formed right at the beginning of my career, as I did my first Ilta-Sanomat illustrations in 1998. My influences were mainly J. Otto Seibolt, circa 1950's illustrations, and also the easiness and quickness of the techniques used. Nowadays I use similar techniques in principle, it's just much more difficult and complicated.
I choose the colors according to my own taste, even though I'm interested in using readymade color maps (eg Kuler). Sometimes I use plenty of color, other times I just try to apply only very few colors with the occasional effects.
How do your work processes evolve?
I usually receive new order by emails, sometimes accompanied by a phone call. I go over the text and the clients wishes (which are usually related to the use of color and the subjects to be underlined). I'm normally left with a lot of freedom regarding how to approach the given subject. I start sketching based on the text and if needed, I will investigate the subject further, for example by looking up references or previous models for the pictures.
Sometimes I run a couple of different ideas by the client, especially when dealing with them for the first time. On those cases I have no prior knowledge of the client's preferences, so finding the common ground is essential.
Next, I do a draft, which I will then moderate, if necessary, to fit the client's wishes. Luckily the cases where I have to change the designs are quite rare. As the draft is approved, I will do a vector version of the image, Photoshop it, send it to the client, and start anxiously awaiting the receiver's "ok", maybe even with a bit of "nice work!" on the side.
 What is the best thing in being an illustrator? What about the most challenging?
The best thing is the moment of revelation: "this is it, the idea works and the work flows effortlessly". Sometimes that moment comes when I pick up my pencil, sometimes it follows a long and painful process: searching in vain for a good idea, struggling with the sketches, forced vectoring, and tired photoshopping. Sometimes it can come half a year after the publication of the piece, occasionally not at all.
The most challenging thing is working with boring projects, times when I'm extremely busy, and those when I'm not busy at all.
Your working space is located at the Aleksanteri Theatre, which is 150 year old. What kind of working place is it?
I'm using a large, high room with two big windows and the feeling of an old building. My studio is somewhat remote from the offices in the building, and I don't meet too many people. Sometimes I feel like I could use some peer support, which would be more readily available in a shared working space, but mostly I enjoy working in peace and quiet.
People say this place is haunted but I haven't encountered the said ghost during my five years here, not even during the late dark winter nights walking down the hallways. I think at least part of the story is related to me walking around in the building.
How do you keep up and improve your professional skills?
I always try to do a better job than before and to constantly try something new. I'm always developing new projects of my own to leave unfinished, and I also study the work of other illustrators and artists. I like learning to use new technical things (software, equipment, etc.).


You did the stamp series "Ystävyyden oksalla" (" Branches of Friendship") for the Finnish Mail. What kind of project was that?
It was great to get to design the stamps. They gave me complete creative freedom, which was both nice and a bit painful. I began with thinking about the concept of a stamp and how to do it differently. I searched for ideas where I could use irregular and unusual shapes.
I developed some 30 different approaches, 10 of which I presented to the client as rough drafts. I thought about several different ideas related to friendship, some of them quite far-fetched. From these drafts, three series were chosen and developed into a series of five stamps each, which were then nearly completed. These series were introduced to the artistic board of the project, which then chose the series to be completed and used. The chosen design was about birds dreaming about each other or something else sitting in their own respective trees. There was a message in it, which can be freely interpreted between the sender and the receiver.
I also liked what followed from the actual work: signing the stamps, being interviewed by the national morning TV program, and so on – things I would not otherwise encounter through my daily work.
What do you consider the essentials of a good illustration?
The idea is the most important thing. The illustrator has to find what's at the core of the subject, but also to bring in a fresh viewpoint, humor, or the like. The technical side of things has to also be up to par with the idea.
I don't like illustrations which just highlight some features of the text and illustrate them, or even present them as a collage, without a further level of innovation.
What kind of sources of inspiration do you have?
I'm inspired by things that are surprising and well done. Inspiration can be found at any given place. Or nowhere, for that matter.


You have done illustrations in a wide variety for over 10 years now. Do you have a dream project you would like to see someday come true?
All in all, I'm interested in things I haven't tried yet. I would like to work with Marimekko, Iittala, plus gaming and animations companies (especially Pixar), to mention but a few, and not to underestimate those who went unmentioned. I will be in contact with these, but I can also be contacted anytime.
I would also like to expand my work more into my own projects, for example some kinds of products, and the like. There are lots of things on the pipeline, I just wish I had the time to make these ideas happen.
Do you follow publications and blogs in your field? Which ones would you recommend?
 I read and follow books and magazines in a wide variety, not just for the illustrations. 
Some of my favourite blogs are:
50 Watts (former Journey Round My Skull)
But Does it Float
Drawn
The sci-fi blog "io9", which is interesting all in all, but also on the illustrative side of things.
Illustrations Mundo
Fuel Your Illustration
Ape on the Moon
**************

ILLUSTRATOR OF THE MONTH / SEPTEMBER 2011: JENNI TUOMINEN
 How did you become an illustrator? 
I caught the drawing bug at Sakke Yrjölä's hand drawing course while studying at the School of Art and Design in Helsinki. Before that I actually used to hate drawing. I just thought I was bad at it and not being able to draw realistically used to bring me down. Sakke's course opened my eyes and I reached my inner child in drawing. My first "proper" illustration work was commissioned by Helsingin Sanomat. I think if somebody would have told me back in the day that I will become an illustrator, I wouldn't have believed it.
You have a multifaceted educational backround and degrees as metalsmith, textile artesan, visual artist and graphic designer. How have these different aspects of your education influenced your career and identity as an artist?
I have indeed gotten my share of education while studying art and design for over 15 years at different institutions. I have always liked crafting things with my own hands and also been keen on trying many different approaches. My illustrations have been featured in magazines, mobile applications, yogurt packages, fabrics, clothing and dishes. Versatility is the key to success in this field, it also opens up a lot of new doors. I can't imagine being anything else than what I am right now.

I have also thought about different lines of work from time to time, but never really considered it seriously. I would like to work more with metal, in jewelry for example. I will begin a ceramics course at the adult education centre in the fall. My significant other Jukka already joked about our place now filling up with pots and cups. We'll see how that turns out.
Please describe your style as an illustrator. What has led you to discover it? 
My style varies quite a lot with each step I take, both forwards and backwards. The end result changes from day to day, I'm quite impulsive when I draw. I want the work to be finished right away and sometimes it's hard to stay patient. That being said, I can sometimes draw in a sort of a "flow" for a week straight up with great results. Plants and animals are always topical as objects, I could draw them 24/7. The hardest for me to draw are human beings, especially the eyes, the nose and the arms are very difficult. Sometimes Jukka jokes that I have again drawn the "fins of a seal". In the beginning of my career, my favourite colours were black, white and bright red. Black is still important for me but lately I have been getting more into broken colours and light blue. If I would have to name my strengths, a very good eye for colour would be one of them.
What's the most fun thing in illustrating? And the most challenging?
I like doing work where the scope is pretty clear and the client knows my style plus lets me innovate freely based on that. I can only recall a couple of cases where there has been too much challenge or they have just remained unreleased in the end. Then I have felt bad but looking back, even those experiences have made me try to reach the next level harder.
My favourite work currently is with Marimekko, and doing my own exhibitions. Lately I have been also doing a lot of paper cut work. It is challenging but rewarding, as I'm able to push myself to the limit and in the end feel like I've achieved something. I like to craft things.
Which one of your works makes you especially proud and why? 
I felt really good winning the Marimekko competition in 2006 with my entry "Unessa" ("Asleep"). I had been working hard for a long time doing competition work and this was my first time drawing large originals. It was nice going to the award ceremony and seeing my work up on the wall. That felt great.
You have designed several kinds of textile work and the "Kuurupiilo"
("Hide and Seek") mug for Marimekko. What kind of things do you take into consideration when doing illustration for practical items?
Doing the first Marimekko designs, I was thinking about how they would appear in different products. Lately I have only been concetrating on the task at hand, so as to be able to concentrate 100% on my drawing. The people at Marimekko are real professionals who guide me along if needed. We have a relationship built on seamless co-operation. For me it's a dream job. True, it's challenging, but the moment when I lay my eyes on the final product is truly awesome.


You use a lot of animal characters in your work. Do you have a favourite? 
I enjoy drawing animals, the clumsier the better. My favourite is bear, the king of the forest. I watch the TV nature show "Avara Luonto" every Saturday, and they occasionally feature bears as well. I vividly recall an episode concentrating on two bear cubs who had lost their mother. It was sad, but that's just the way nature is.
Your spouse Jukka Pylväs is also an illustrator. What is the every day life of two illustrators in Porvoo like?
Jukka is my critic. He has strong opinions and it is important for me to get feedback. Jukka also helps, supports, and pushes me forward. We work quite a lot, and usually during the summer when everybody's on holiday, the two of us are keeping busy. Sometimes I daydream about getting a working space but in the end I think working at home has more pluses than minuses. I like to have the TV on when I draw. The more exciting the thrillers they air, the better. Sporting events also work well on the background when drawing.
You have had many exhibitions both in Finland and abroad. Can you name one that has been particularly memorable?
My graduating exhibition at the Gallery Ama in Turku is perhaps the most significant one thus far. After a year of hard work it was nice to see the finished work presented. I also received some good feedback, which encouraged me to continue onwards. My work has been presented in more than ten countries, so even though I haven't been travelling too much myself, at least my art has.
Where would you like to see more illustrations at? 
In every day life, at public transport, in town, in strange places. Construction sites covered with an illustaration are often remarkable. It seems like that gives a new life for the building, albeit for just a minute. I would like to see more illustrated buildings in Finland, as such, with murals big as the walls.
What are you working on next? 
I'm doing a couple of new things for Marimekko, and currently negotiating about doing illustration for a book. There are also a couple of exhibitions on the pipeline for next year.
 
JENNI'S PORTFOLIO 
**************

ILLUSTRATOR OF THE MONTH / AUGUST 2011: JAAKKO PALLASVUO
How has your summer been?
Thus far my summer has been about hanging out at the park and preparing my new comic book and exhibition. I'm shooting videos with ambitious goals in order to challenge and/or embarrass myself.
You have now lived in Berlin for a year, how is the everyday life of an illustrator there?
I haven't really had enough time to form routines yet. The year has mostly been about getting to grips with my environment. The city reveals new sides of itself all the time. Right now my days consist of walking a lot at a slow pace. I make decisions and carry them out. This happens either at a cafe, at my work space, or at my apartment.

How did you end up becoming an illustrator? 
I got interested in the field in high school. Making illustrations and comics have supported each others as interests, both being essentially about the relationship between text and images. Being represented by Napa has enabled me to work more professionally. Getting to know other illustrators has enhanced my interest in illustrating further, and it has also made me more ambitious.
You are currently studying at the Finnish Academy of Fine Arts in Helsinki. Have the differing roles of an illustrator and a visual artist had an influence to your own artistic identity?
I think the way I myself see things connecting to each other is quite clear and straightforward. Works done with differing goals in mind and with differing techniques support each other. You can learn about photography by painting, and so on. An outsider may view this combination of different worlds as a chaos-like state, though. There are doubts directed at both an illustrator in the art world, and to visual artist in the illustrating/design circles, but I still want to do it all. Perhaps during my stay in Berlin I have now proven myself through successful transformations for example from graphic design into fine art and vice versa. That makes me confident that I don't have to stick to a given pattern in my work.
Please describe your style as an illustrator. How have you found your style and what has affected your growth as an artist the most?
I'm not very good at describing my style. In a way, I would like to think that there is none, and that I'm in a constant state of flux instead. In the end, of course, there is a personal way of expression. I have been inspired and influenced by the illustrators I myself admire. Art history also plays a role: Hans Holbein, David Hockney, Piero della Francesca and Fra Angelico are some of the artist, whose work have had an influence. Technique-wise, I used to lean towards hand drawn and painted work, now I'm very interested in the hybrid of Photoshop and reality outside of it.

What is your favourite phase in the illustrating process? 
My favourite part is thinking about the colours. I always begin with a black and white drawing, the colours are the last to be included. That phase feels like the most relaxed one, because most of the potential problems have already been solved. That being said, colours can change everything and create a whole new level.
What would you like the audience to remember from your work? 
The atmosphere.
Which visual artists/illustrators do you most admire?
Illustrators: Riikka Sormunen, Milano Chow, Maxwell Holyoke-Hirsch, Elina Minn,
Rami Niemi, Antti Uotila, Rui Tenreiro
Visual artists: Jenny Holzer, Sophie Calle, Michael Asher, Christian Jankowski,
Santiago Sierra, Francis Alys, Sylvia Sleigh
I have actually been following fashion lately. It is easy to be genuinely enthusiastic about a field with which one isn't professionally connected as such. Some designers who I think are especially interesting are Hussein Chalayan, Phoebe Philo, Walter Van Beirendonck and Damir Doma. 
In what kind of places would you like to see more illustrations?
I think the most fruitful context for illustrations is often a big article or an essay. I crave for more deep, high quality journalism with illustrations to match.
Do you actively follow publications and blogs in your field? Which ones would you recommend? 
I used to follow more illustrating blogs but right now there aren't any definite favourites on that field. Now I'm more interested in recognizing the same atmosphere in different forms than categorically concentrating in one specific field. I think you can find forward-looking blogs at http://www.haw-lin.com/ and http://vvork.com. My current favourite is the web magazine DIS:  http://dismagazine.com/.
What kinds of future hopes and dreams do you have?
My plans change all the time. I would like to study further, eventually, to make a new comic album, to make more challenging and engaging work. To live with style.

JAAKKO'S PORTFOLIO AND WEBSITE
**************

ILLUSTRATOR OF THE MONTH / JUNE+JULY 2011: PAULIINA MÄKELÄ 
 
What is your background in illustration?
I probably began drawing before I even started to speak. My father held me and helped me hold the pen, it was kind of like starting to ride a bicycle with training wheels. I started to study at the Lahti Institute of Design at the department of Graphic Design after high school. That's when I landed my first gigs as an illustrator through summer jobs at the main local newspapers of Turku and Helsinki, respectively. I started planning a career as an illustrator, and a couple of lucky breaks right after I graduated helped in getting started on it by giving me confidence plus recognition in the field.
What kind of style do you have as an illustrator?
My illustrations often contain a dreamlike sense of the absurd. There's an intense atmospheric element at play, and I like to highlight certain details such as the eyes, the head, the expressions. The assignments I get often deal with abstract issues, sometimes quite dark ones as well. I suppose there is a touch of melancholy and mysticism in my style, and I also have a quirky sense of humor. I like to do both illustrations awash with color, and black and white ones, too. Presently my style could be described as a combination of realistic pencil work and slightly naivistic coloured illustrations either handcrafted or done with a computer.
You just spent some time at an artist's residence. How was it? 
I spent two weeks at Paljakanvaara, near the natural reserve there, at an artist's residence called "Mustarinda". The nearest convenience store was some 20 kilometres away. The residence, now hosted by an artist couple called Alma Heikkilä and Antti Majava, had been a local school and a drug rehab centre in the past. My days there were filled doing comics and illustrations plus trekking in the beautiful, thick forest nearby. There was also a waterfall in the area, and the woods were exactly of the ilk which enchant you in a way that you could easily lose yourself there. Whenever I used to walk in the forest, I whistled, mostly because I was a little bit afraid of running into a bear.
What inspires you?
Music is an important source of inspiration for me. When I go out to listen to live music, I often get new ideas or solve problems related to difficult projects. There's something about live music that really stirs up my thoughts. Films and literature are also inspirational for me, especially vintage books related to nature. Travelling is another thing that tunes my mind into an innovative wavelength, I guess moving around is good for the creative process.
What's the most fun thing in illustrating? And the most challenging?
The most fun I have when I can take a difficult subject and manage to summarize it up and interpret it successfully in an illustration. It is both fun and challenging to try and keep my work fresh, and I will not let myself get away with easy solutions. I think it's refreshing to illustrate by using many different styles, I trust that my work will still remain recognizable. That being said, there is still often the pressure to pick a certain direction and style and stick to it. The most challenging thing often is to achieve creative results amidst busy schedules and being tired. Sometimes it's also good to be face to face with a strict deadline, it can create the "flow" necessary for good results in creative work.
Your dream project?
I would like to do a broad art book project, which would be a compilation of different kinds of beautiful, strange things and random memories collected by an imagined archivist.
What other interests besides illustrating do you have?
I also do comics, but less and less lately due to my busy schedule. I watch a lot of films and go out for live music at least once a week. I look forward to a summer filled with bicycle trips, picnics, swimming, parties and dancing.
What kind of environment do you like to work at?
I'm a partner at the "Kutikuti" work space, which brings together a varied selection of comic artists. Together we also release the "Kuti" tabloid, which comes out four times a year. The environment needs to have a relaxed vibe and an abundance of materials conveniently at hand. Sometimes I also work longer periods from my home, when I need some peace and quiet. The work space, though, is very important for me psychologically, a place where I can escape the walls closing in on me at home, and of course a place to meet my colleagues as well.

PAULIINA'S PORTFOLIO AND WEBSITE
**************
ILLUSTRATOR OF THE MONTH / MAY 2011: JUSSI KAAKINEN
 
What is your background in illustration?
Drawing has been a hobby for me ever since I was a child, and little by little it has transformed itself into a profession, beginning with part time illustrative work during my studies and then evolving into a full time occupation. I finished my studies some six years ago and have since then made my living as an illustrator and a graphic designer. Growing up, I used to make comics just to amuse myself and my friends, and I think you might still find that initial spark in my work today.

What kind of style do you have as an illustrator?

My illustrations are often based on black and white felt pen drawings and other handcrafted elements, which are the colored and sampled digitally. The most common tools of the trade for me are ink, G-pen and paintbrush. When I feel like it, I might also throw acrylic, guass, and spray paint in the mix to experiment with different kinds of weird collage. Sometimes, on a rare occasion, I have also done all digital drawings as vector graphics. Stylistically, you might see traces of the European comic tradition in my work.

How would you like to grow as an illustrator?

I would like to broaden my scope in the realms of both fully digital abstract illustrations and traditional realistic painting. This means that I probably will not grow as an illustrator at all.


What kind of illustrative work do you enjoy the most?
A relaxed working schedule is one of the basic building blocks to enjoying my work, but I have to admit that hectic projects can sometimes be fulfilling, too. The enthusiasm of my clients often works its way into my operation as well, be it a close deadline or one further down the road. I usually enjoy difficult subjects which force me to really ponder how to make the ideas alive by illustrating them. One intriguing theme recently was quantum physics, for example. In best cases, dealing with the themes requested is able to educate the illustrator on a broader sense as well.

What do you consider as being the most fun and most challenging aspects of illustrating?

Seeing the finished illustration in print can be a great source of extreme narcissistic joy (and on the other end of the spectrum, shame). The most challenging thing is to find new angles into used-up subjects, in other words to not lose my innovative edge when working.

Your dream project?

I would love to do an entirely self-written and self-illustrated picture book or a comic collection someday.
You are a "Finlandia Prize" winning comic maker. Anything on the pipeline on that front?
I'm in the process of doing some comics for a study book. I think I will try to do my own full-length comic album at some stage but I'm still struggling to find the time, funding and confidence for such a major task. As a cartoonist, I'm always open for interesting proposals but I haven't tried to actively make my career as a comic maker as such.

What other interests besides your work do you have?

I like to read, both fiction and non-fiction. I also try to keep up-to-date in the fields of film, music and gaming, although I don't have that much time to invest in them nowadays. Another area of interest is politics, especially these days. In addition, I also try to spend as much time as possible with my son.

What would you do with more free time?

I would do sports, find a society that does good things to better the world and join it, meet friends, start a blog.

Your spouse Nadja Sarell is also a professional illustrator. How does this show in your everyday life?
We give feedback to each other and share information. Fortunately enough, we have quite different styles and thus don't have to go head-to-head as competitors. Nadja has often posed as a model for me on my illustrations. Since we're both freelancers, it's easy to blend together work and leisure time.
**************
ILLUSTRATOR OF THE MONTH/APRIL 2011: RIIKKA SORMUNEN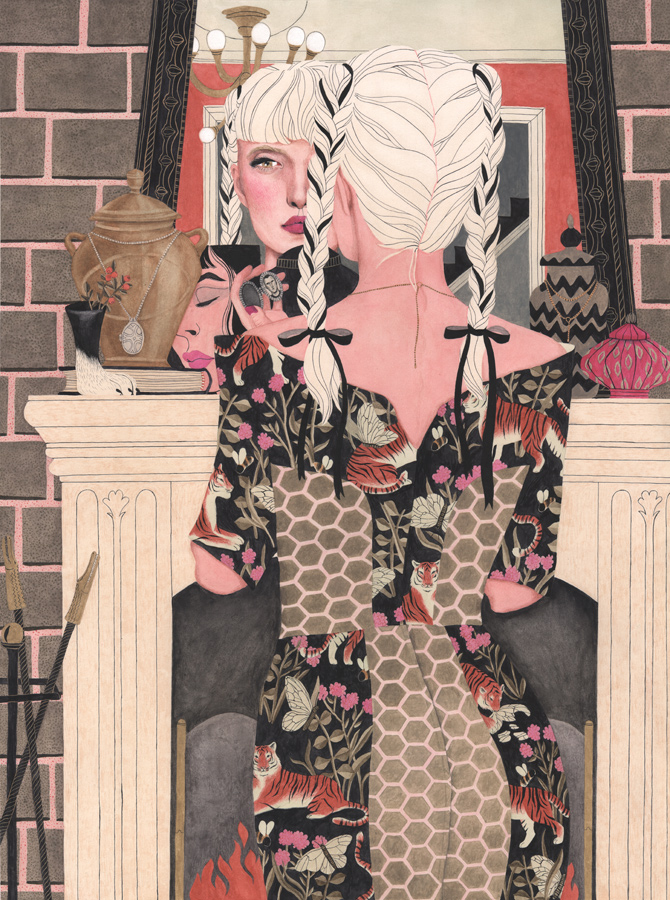 What is your background in illustration?
I started drawing seriously in the later years of comprehensive school. For a while I wanted to be a cosmetologist till I realised that drawing perfect eyebrows on paper interested me more. For a long time I dreamed of a traditional career as an artist. While I was studying at Helsinki Upper Secondary School of Art, though, I was told repeatedly how well an illustrator's job would suit me. I hadn't really thought about this option, but I got enthused about it and before long I sent my portfolio to my favourite Finnish magazines. I was commissioned by Trendi straight away and I was over the moon.
What kind of style do you have as an illustrator and what inspires you?
I love all kinds of patterning and slow fiddling about. I'm certain I'll never give up floral themes or human figures because it's just so engaging to draw different faces and flowers. It feels as if I've aimed stylistically at pretty much the same results since my teens, but as I've grown in skills I've had to make less and less compromises all the time. I'm often inspired by watching movies and I often get sidetracked when I suddenly feel the need to draw or write down a particular colour combination, situation or arrangement. My personal experiences, dreams and nature are also effective sources of inspiration.
Do your studies of clothing design show up in your illustrations?
I often have a guilty conscience if I draw a boring outfit for a character. But I try to remember that clothes aren't always the right focus for every illustration. Still, quite often my own initiative drawings start off from a pattern or colour combination the person in the drawing is wearing.
You used to work freelance. What made you join an agency?
Especially here (in Canada) it's a challenge to get hold of clients' contact details, and I've never been good at reminding people about myself often enough. But the main reason is that I could never think of all the potential clients on my own.
How did you go from living in Finland to Canada via Norway? What's life like in Canada?
My boyfriend's job is designing characters and settings for video games and there aren't many jobs available in that line in Finland. Luckily as an illustrator I can work anywhere, and besides, living abroad has always attracted me. On the other hand, we've agreed to move somewhere warmer next, as the last winter was definitely the coldest I've ever experienced. Still, the sun shines much more often than in Helsinki, so the cold hasn't been absolutely unbearable. The people are friendly and nice, but Edmonton was clearly built for cars, and the runty rail network makes a sworn car-hater uncomfortable.
Your favourite illustrator/artist?
My current favourites include Fuco Ueda and Sylvia Sleigh. Gustav Klimt and Rudolf Koivu have been enduring favourites of mine for a long time, and I've sometimes keenly mimicked Klimt in particular. I love Japanese woodcuts. In general, striking technical skills and a profusion of details are what I find most inspiring now. Recently I've also been an intensive fan of illustrators of the turn of the millennium, thanks to the Today's Inspiration blog.
What are you into apart from illustration?
I usually have a one-person disco just before lunch. I'm working on some clumsy choreographies which represent song lyrics as closely as possible. I also like cookery. Last month I must have made several litres of hummus. I watch far too much television and I envy people who can do without it.


How would you like to grow as an illustrator?
My biggest problem is that I easily get bogged down without deadlines. I can easily paint for fourteen hours straight if I know it has to be finished by tomorrow. Otherwise I might just stare at a half-finished picture for days on end. I don't know if it might be different if I painted with a computer, for example, but with watercolours I can never just try and see if something would look good green, I have to be sure before I can do anything. At regular intervals I also try just doing something at a relaxed pace, not caring about the results. But these experiments nearly always end up with me designing and staring in just the same way as I do with my other jobs.
What would be your dream project?
Getting anything onto the pages of Vogue would be some kind of dream come true, for sure. Unfortunately they don't use a lot of illustrations, but you can always dream.

RIIKKA'S PORTFOLIO AND WEBSITE